Back to Investments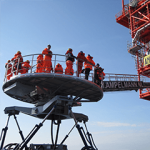 Ampelmann
High-tech company delivering innovative, safe and reliable access solutions to the global offshore energy industries
Ampelmann ("the Company") is a high-tech company focusing on the development, construction, rental and sale of offshore access solutions. The Company was founded in 2008 as a spin-off of the Delft University of Technology.
Ampelmann develops and operates motion compensated gangway ("MCG") systems which actively compensate for vessel motions at sea to enable cost-effective, fast and safe access between vessels, and between vessels and offshore structures, in challenging conditions. The Company has local offices across the globe, allowing it to rapidly mobilise systems and operate its fleet on a 24/7 basis.
The investment was acquired from the founders in August 2013, with the management team and the founders retaining a minority stake.
What Attracted us to the Business
Globally recognised technology leader with a unique and superior market offering
Rapid organic growth and resilient business model
Entrepreneurial culture and strong knowledge base present in the Company
Significant potential for internationalisation
Our Value Creation Strategy
We are working alongside management to:
Maintain position as market leader in terms of service offering and quality;
Expand into attractive niche segments through innovation; and
Increase penetration in overseas markets.
Quote from the Client
"Since inception, we were focused on developing the MCG technology and were proud of the growth trajectory and the strong track record we achieved. In 2013 however, we recognised the need for a strong partner to support us in further developing and institutionalising our business. Since then, IK Partners has been helping us realise the tremendous potential, and together, we are setting new standards in safety whilst building Ampelmann into a global leader."

Jan van der Tempel, Founder and Chief Executive Officer, Ampelmann