Back to Investments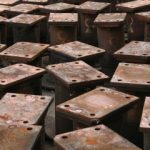 Axtone
Expert in impact energy absorption technology for railway industries
At the time of exiting, Axtone ("the Company") was Europe's largest manufacturer of buffers, draw-gear devices and related components for rail and metro vehicles and rail infrastructure. In addition, the Company offered the complete service of buffers being fully responsible for their servicing and logistic maintenance. With over 200 product certificates, Axtone supplied all major rail operators and wagon manufactures in Europe and selected markets around the world.
The company was headquartered in Kanczuga, Poland and manufactured its products in five locations: in Poland, Germany, Czech Republic, Russia and China.
Axtone was acquired by the IK 2004 Fund in October 2008, and subsequently sold to ITT Inc. in January 2017.
Our Value Creation Strategy
During our ownership, we worked alongside the management team to:
Increase and support international expansion;
Introduce focus on operational excellence; and
Utilise a strategy of selective add-on acquisitions.