Back to Investments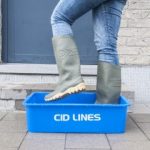 CID LINES
Global livestock biosecurity and hygiene solutions provider
CID LINES ("the Company") is a leading developer and producer of cleaning agents and disinfectants for the agricultural, food, vehicle care and institutional sectors. With an expanding network of distributors and importers, the Company had exported its solutions to more than 114 countries at the time of exit. CID LINES offers its customers a complete product range, integrated solutions and know-how combined with technical advice.
Over the past years, CID LINES has continued to realise strong growth across all of its segments, supported by an increasing awareness of food safety and use of hygiene products to guarantee safe food throughout the food chain. The Company is headquartered in Belgium, with an additional production site in Poland to serve Eastern Europe.
After acquisition by the IK VII Fund from Glide Buy Out Partners in January 2016, IK's stake was sold to Ecolab in May 2020.
Our Value Creation Strategy
During our ownership, we worked alongside the management team to:
Optimise full potential in existing footprint by increasing market shares though superior commercial excellence;
Increase geographical coverage by entering and/or further penetrating high growth agricultural markets; and
Develop a selective buy and build strategy to further accelerate geographical growth and/or add complementary products to its existing portfolio.
Quote from the Client
"CID Lines showed excellent growth the last three years. The drivers behind this growth were continued investments in new products, registrations and our salesforce. IK has been very supportive of these investments in our growth, and we would like to thank them for this support."
Koen Brutsaert, Founder and Chief Executive Officer, CID Lines