Back to Investments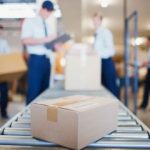 Crisplant Industries
Global leader in material handling and intralogistics
At the time of exit, Crisplant Industries was a leading world-wide manufacturer of automatic industrial sorting systems ("ATS") and liquefied petroleum gas filling equipment ("LPG"). Main application areas within ATS included baggage-sorting systems for airports, parcel sorting systems for postal authorities and package sorting equipment for various other industries.
Crisplant was acquired by the IK 1989 Fund from Unibank in July 1992. It was subsequently listed on the Copenhagen Stock Exchange in a partial exit in December 1995, before IK's remaining shares were sold to FKI in June 1999. Crisplant was absorbed into Beumer Group in 2016, following acquisition in 2009.
Our Value Creation Strategy
During our ownership, we worked alongside the management team to:
Increase manufacturing capacity in the US;
Establish a world-wide service concept; and
Transfer sorting expertise into other end-user segments to reduce dependency on postal & airport customers.