Back to Investments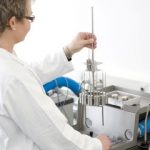 Ellab
Global leader in thermal validation equipment for the pharma, food and hospital sectors
Ellab ("the Company") is a leading global supplier of solutions for measuring, recording, monitoring and validating critical parameters of thermal processing, selling its products in over 65 countries across the globe at the time of exit.
The Company offersa wide product range of high-precision systems for temperature, pressure and humidity monitoring and validation based on either data loggers or wired thermocouple instruments. Ellab's products were used by the pharmaceutical and food industry as well as hospitals, where accurate and complete supporting validation documentation is essential.
Ellab was acquired by IK from the Founders in August 2016 via the IK VIII Fund. Ellab was subsequently sold to EQT in August 2019.
Our Value Creation Strategy
During our ownership, we worked alongside the management team to:
Promote continued organic growth through further market share gains in the pharma segment;
Invest in organic expansion of the validation services market;
Investigate the merits of entering adjacent validation industry verticals; and
Pursue growth through M&A of identified targets.
Quote from the Client
"Thanks to IK, Ellab was able to make significant investments in human capital and strengthen its sales and service organisation, creating value for our customers. They have actively supported our ambitious growth agenda and helped us launch several new products. We now look forward to continuing on our next chapter in the Ellab story."
Peter Krogh, Chief Executive Officer, Ellab