Back to Investments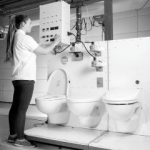 Evac Group
Global market leader in waste and wastewater treatment solut
Evac ("the Group") is a global company that designs and markets environmentally-friendly water, waste and wastewater collection and treatment systems for the shipbuilding, offshore and construction industries.
Founded in 1975, Evac has delivered over 1 million vacuum sanitation units for more than 12,000 vessels, including cruise liners, car and passenger ferries, naval vessels, submarines and yachts. From its Finnish headquarters in Espoo, the Group employed 190 people, with a direct presence in Finland, the US, China, Korea, France, Germany, Norway and Brazil, with a worldwide network of agents and distributors.
In December 2014 Evac was acquired by the IK VII Fund in December 2014 from Oaktree Capital Management, and subsequently exited to Bridgepoint in November 2017.
Our Value Creation Strategy
During our ownership, we worked alongside the management team to:
Expand the business organically across multiple product and application areas and customer segments;
Further develop the company's bundled offering and aftermarket business; and
Make selected value-accretive acquisitions.

In March 2015, Evac Group merged with Deerberg-Systems, a German-based market leader in marine environmental protection systems.
In December 2016, Evac acquired Uson Marine, a Swedish dry and wet waste management company.
Quote from the Client
"It has been a pleasure working with the IK team. With their support, we have completed two significant add-on acquisitions as well as boldly invested in our in-house development capabilities and product offering, and we now have the largest and most advanced cleantech system portfolio in our sector,"
Tomi Gardemeister, Chief Executive Officer, Evac Group