Back to Investments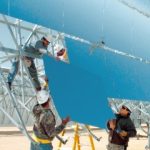 Flabeg
Global market and technological leader in glass processing
Headquartered in Nuremberg, Germany, Flabeg ("the Company") is a leading manufacturer and supplier of solar parabolic mirror and automative glass for the renewable energy and automotive mirror system industry.

At the time of exit, Flabeg operated its mirror glass production in two business units – the Solar and Automotive segment. In the Solar segment, Flabeg produced parabolic mirrors which are used in CSP ("Concentrating Solar Power") plants, namely for parabolic troughs. This segment of the renewable energy market has seen significant growth driven by increasing global demand and governmental support for renewable energy sources aimed at decreasing pollution and reducing dependency on fossil resources. As a Tier 2 manufacturer, the Company's Automotive segment manufactured mainly exterior and certain interior mirror glass for passenger cars and commercial vehicles.
Flabeg was acquired by the IK 2007 Fund in May 2008 and later sold its stake in April 2013.
Our Value Creation Strategy
During our ownership, we worked alongside the management team to:
Focus on operational excellence and international expansion;
Make selective add-on acquisitions; and
Increase the production capabilities and capacity.