Back to Investments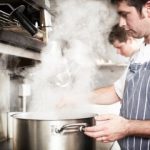 Idesta
Leading supplier of commercial kitchen equipment
At the time of exit, Idesta provided Scandinavia's largest range of commercial kitchen equipment and produced professional catering and stainless steel products for professional use. In addition to industrial kitchen supplies, Idesta manufactured and marketed specialist windows and doors.
Idesta was acquired in December 1989 by the IK 1989 Fund from Atlas Copco. It was subsequently sold to Nyge Aero Norden AB in June 1998, and then to Coldator in January 1999.
Our Value Creation Strategy
During our ownership, we worked alongside the management team to:
Implement a cost reduction programme; and
Reorganise the company into two distinct divisions: Kitchens and Speciality Construction.