Back to Investments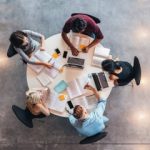 Liber
Leading publisher of teaching and course materials
Liber developed teaching materials, course and management literature, and was Sweden's largest publisher of educational and professional texts at the time of exiting.
In September 1990, the IK 1989 Fund merged Liber (acquired from Marieberg) with Esselte Publishing (acquired from Esselte). IK's stake was then sold to Wolters Kluwer in January 1993.
Our Value Creation Strategy
During our ownership, we worked alongside the management team to:
Achieve integration of newly merged businesses; and
Consolidate business activities, and realise associated synergies.