Back to Investments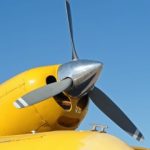 NYGE Aero
Aviation services provider
Nyge Aero Norden ("the Company") provided various aviation services including maintenance and engineering. At the time of exit, the Company was a leader in special flight services such as target flights, calibration and testing for military and civilian purposes in Sweden, Norway, Austria and Greece.
Nyge Aero provided maintenance and modification of military and commercial aircraft and helicopters, as well as agency operations and target aircraft. The Company was established in 1956 and had over 170 employees.
In August 1990, the IK 1989 Fund acquired Nyge Aero from private owners in conjunction with the CSE Oxford Ltd investment. Following separation form CSE Oxford in 1994, IK's stake was sold to SAAB in May 1999.
Our Value Creation Strategy
During our ownership, we worked alongside the management team to:
Develop engineering and maintenance service businesses; and
Diversify and enter new markets such as target towing.