Back to Investments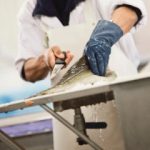 Pieters
Leader in fish processing and distribution
Pieters ("the Group") was one of Europe's leading integrated fish processors and distributors, engaged in the purchase, aquaculture, processing, packaging, sales and distribution of fish products. Its major product categories were salmon, North Atlantic white fish and South East Asian prawns. At the time of exit, the Group was the market leader in Belgium and had significant market shares in the Netherlands, France and Germany.
The IK 1994 Fund acquired Pieters from private owners in January 1998, before exiting to Fjord Seafood and Domstein in Decemeber 2000.
Our Value Creation Strategy
During our ownership, we worked alongside the management team to:
Expand salmon farming and processing activities;
Develop geographic distribution;
Expand the portfolio offering for value-added processed products; and
Strengthen sourcing capabilities for whitefish in the North Atlantic area.
Quote from the Client
"Fjord/Domstein represents a good industrial solution, which will enable Pieters to continue growing in this consolidating industry. We are looking forward to further developing Pieters in cooperation with the new owners".
Frank Tierenteyn, Chief Executive Officer, Pieters