Back to Investments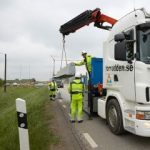 Ramudden
Leading specialist provider of temporary traffic control services in the Nordic region
Ramudden ("the Company") is a leading specialist provider of work zone safety services (primarily road safety) in the Nordic region, operating through a network of more than 60 depots at the time of exit. The Company, which was founded in 2005, is a leading player in the Swedish market and also present in Norway and Finland since 2009 and 2012 respectively, with headquarters in Gävle and Sundsvall, Sweden.
Ramudden's products and services include the rental of essential temporary traffic control equipment (such as traffic barriers and guide signs), traffic arrangement plans, education programmes and surveillance and maintenance services. Key customers include civil engineering contractors and construction companies.
Ramudden was acquired from the founder by the IK VII Fund in June 2014, and exited to Triton in December 2017.
Our Value Creation Strategy
During our ownership, we worked alongside the management team to:
Facilitate organic growth in existing locations by leveraging strong underlying market trends;
Drive expansion of geographical presence in current and new markets;
Achieve wide-ranging operational improvements; and
Utilise a strategy of selected add-on acquisitions.
Quote from the Client
"IK has been instrumental to Ramudden's significant growth over the past couple of years. Thanks to their support, we have been able to rapidly expand our depot network, improve our operational structure and invest even more in our staff. We are looking forward to continuing our development together with Triton."
Hans-Olov Blom, Founder and Chief Executive Officer, Ramudden