Back to Investments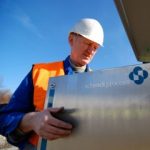 Schenck Process
World leader in industrial measuring and process technology
At the time of exit, Schenck Process ("the Company") was one of the global market-leading providers of industrial weighing, feeding, screening and automation equipment and solutions. The Company had significant operations in Europe, North and South America, China and Australia and served a diversified customer base across a wide range of International Business Segments ("IBS"), including Heavy, Light, Mining Power and Transport Automation.
Schenck Process is headquartered in Darmstadt, Germany.
IK acquired Schenck Process in October 2007 via the IK 2007 Fund, and sold to Blackstone in December 2017.
Our Value Creation Strategy
During our ownership, we worked alongside the management team to:
Leverage strong organic growth;
Introduce focus on operational excellence and international expansion; and
Make selective add-on acquisitions.
Quote from the Client
"As we embark on an exciting new chapter for Schenck, I would like to thank IK for their invaluable support over the past years. Blackstone's significant sector experience and financial backing make them the ideal new partner. As we commit to further investment in innovation and developing new technologies, we look forward to accelerating growth across our international footprint,"
Andreas Evertz, Chief Executive Officer, Schenck