Back to Investments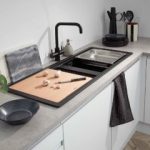 SCHOCK
Designer and manufacturer of a wide range of kitchen sinks, mixer taps and accessories
As the original inventor of the manufacturing technology commonly used in the production of granite sinks, SCHOCK ("the Company") gained a reputation for innovation, quality and technological excellence. At the time of exit, the Company had over 90 patents and a 21% global market share in granite kitchen sinks. SCHOCK was headquartered in Regen, Bavaria and employed over 400 people.
Based on a quartz-acryl composite developed by SCHOCK, the Company's premium product was three times as hard as natural granite and superior in product performance to sinks made from other materials.
SCHOCK was acquired by the IK VIII Fund from HQ Equita in December 2016, before sale to Triton in March 2021.
Our Value Creation Strategy
During our ownership, we worked alongside the management team to:
Organic growth in existing and new markets (US & China);
Expand product portfolio, increase cross-selling of faucets and accessories; and
Improve the efficiency of production, then leverage scale effects.
Quote from the Client
"We are very grateful to the IK team for their help and support over the last four years. During this time, we have invested in our innovative and sustainable product range, as well as enhanced our brand and reputation in the market for high-quality, durable and stylish sinks. We are looking forward to collaborating with Triton to build on this foundation and continue our trajectory of growth."
Ralf Boberg, Chief Executive Officer, SCHOCK