Back to Investments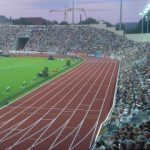 Sport Group
Leading global producer of synthetic sport and recreation surfaces
Sport Group is a worldwide market leader of outdoor sport and recreational surface systems. At the time of exiting, Sport Group primarily installed artificial turf fields and tracks (both running tracks and multi-purpose surfaces) and manufactured all system critical components in-house.
Sport Group has three main product groups (artificial turf, tracks and playground) used in a variety of applications. The business benefits from its unique system competence, leading technology and a strong market position, especially in Germany. Headquartered in Burgheim, Germany, the Group successfully expanded its operations internationally through four add-on acquisitions in recent years and therefore strengthened its product and brand portfolio as well as its geographical presence.
Sport Group was acquired by the IK 2000 Fund in May 2006, before successful sale to Equistone in June 2015.
Our Value Creation Strategy
During our ownership, we worked alongside the management team to:
Leverage strong organic growth;
Focus on international expansion; and
Facilitate selective add-on acquisitions.
Quote from the Client
"Since being acquired by IK the size of the Company has doubled and the global footprint has significantly improved. The challenging market situation that we faced in 2012 triggered a transformation of SportGroup, and alongside IK, we actively invested in product innovations and brand strategy, as well as in sales and organisational excellence in order to best serve the global market trends. Today, we are the optimal positioned player in the sports surfaces industry, and we are pleased to be entering into a partnership with Equistone to support the Group's future strategic development and growth."
Frank Dittrich, Chief Executive Officer, Sport Group