Back to Investments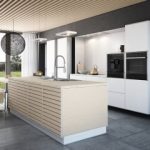 TCM Group
Leading Scandinavian producer of quality kitchens
Headquartered in Holstebro, Denmark, TCM ("the Group") developed, produced and sold quality kitchens. The Group had a broad and innovative range of kitchens, selling its products under the well-known brands Svane, Tvis and Modulia.
TCM's core market was Denmark with an increasing focus on the rest of the Nordic region, with an expanding network of stores across Denmark and Norway. At the time of exiting, TCM had over 330 total employees and production facilities in Tvis and Horsens.
The IK SC I Fund acquired a 47% stake in TCM in March 2016 from Axcel, with remaining shares held by management and co-investors. IK exited in December 2017, when TCM was listed on the Copenhagen Stock Exchange.
Our Value Creation Strategy
During our ownership, we worked alongside the management team to:
Leverage the strong brands to achieve organic growth in Denmark and Norway;
Gain selected efficiency improvements within manufacturing and sourcing; and
Achieve market consolidation through potential add-on acquisitions and new store establishment.