Back to Investments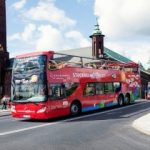 Touristry
Market leading operator of sightseeing bus and boat tours in Nordic capitals
Touristry ("the Company") is a leading provider of bus & boat-based sightseeing tours and operator of tourist information desks through owned subsidiaries in Stockholm, Copenhagen and Berlin, and as a franchise in Helsinki, Tallinn and Riga. At the time of exit, the Company managed brands such as Red Buses and Red Sightseeing and provided services to over 1.3 million tourists per year.
The IK SC I Fund acquired a 94% stake in Touristry in May 2016 in a primary transaction from the founder. In May 2018, Touristry was sold to Tourism Group Holding BV.
Our Value Creation Strategy
During our ownership, we worked alongside the management team to:
Support organic growth leveraging off Touristry's strong concept;
Achieve numerous operational improvements; and
Make strategic add-on acquisitions in Northern European cities.
Quote from the Client
"Since our very first meeting, the business relationship with IK has been underpinned by mutual trust and a shared vision. With IK's help we were able to transform Touristry into a truly international business, with the scale and functionality to grow and sustain our market share. I look forward to building on our success in this next chapter for the company together with our new partner, TGH."
Micha Gottfarb, Founder and Chief Executive Officer, Touristry