Back to Investments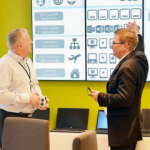 Visolit
Leading IT services platform for Nordic SMEs
Visolit is the leading supplier of Cloud Managed Services to small and medium-sized enterprises (SMEs) in Norway and Sweden, solving customers' IT challenges through its technology agnostic one-stop-shop platform with a primary focus on application hosting and management, helpdesk services as well as digital transformation.
Visolit was acquired by IK Partners from Ferd Capital in March 2016.
Our Value Creation Strategy
During our ownership, we are worked alongside management to:
Optimise operations by strengthening the organisation, improving customer support and service as well as reinforcing existing infrastructure;
Re-position the company strategically towards a customer-centric approach with complete public, hybrid and private cloud offerings and additional vertical and advisory capabilities; and
Drive consolidation in the Nordics through the execution of a buy-and-build strategy.