Back to Investments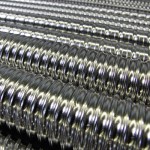 Bahr Modultechnik
Leading provider of linear positioning systems for the automation market
Bahr Modultechnik ("the Company") is a leading provider of linear positioning systems serving the global automation technology market. The Company's systems are mandatory in a wide range of automation applications, such as pharmacy / labs, dosing / packaging, 3D printing and for the Industrials sector.
Bahr Modultechnik is internationally recognised for its long track record of quality and innovation leadership. Its technological advantage lies in its deep engineering expertise, co-developing automation solutions for its customers, based on a modular product offering that allows for more than 1,000 combinations. The Company's solutions provide the highest degrees of flexibility and customisation, resulting in a large share of recurring business.
IK Partners acquired the majority of the Company in May 2018 from its founding family in a primary transaction.
Our Value Creation Strategy
We are supporting management to:
Unlock excellent organisational strength and manage the transition from a founder-led organisation;
Broaden and professionalise sales activities to drive new customer acquisition and international expansion via distributors; and
Expand current product offering in attractive end-industries and continue new product development.