Back to Investments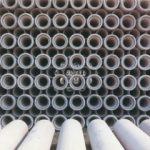 Consolis
European market leader in pre-cast concrete
Consolis ("the Company"), formerly Bonna Sabla, was the largest precast concrete based solution provider and manufacturer of structural prefabricated concrete elements in Europe at the time of exit. At the time of exit, Consolis had over 47 production plants in around 17 countries with leading positions in their respective markets.
The Company is headquartered in Brussels, Belgium.
In October 2005 Bonna Sabla was acquired by the IK 2004 Fund, in addition to the former Consolis, which was acquired from IK 1994. The new Consolis was formed by combining Consolis Oy Ab and French Bonna Sabla in November 2005. It was then sold to LBO France in March 2007.
Our Value Creation Strategy
During our ownership, we worked alongside the management team to:
Improve profitability in mature markets, by systematic development of new markets for pre-cast concrete expansion overseas, particularly in the Mediterranean, Eastern Europe, Indonesia and the Indochinese peninsula.
Quote from the Client
"IK was a great partner, who saw first the potential of putting together those two European regional leaders that were Bonna Sabla and Consolis Oy, and gave us the means to realise this exciting merger. The resulting Consolis Group is now in working order and ready to benefit from the many structures created to realise the projected cross-fertilisation. LBO France intimate knowledge of the construction materials world will certainly help us implementing this program. We are also quite interested by the privileged links that we may have in the future with two of their portfolio companies, Nexity and Cogedim, which appear to be amongst the leaders in property development, thus representing the ultimate customers for the products we are creating."
Philippe Milliet, Chief Executive Officer, Consolis