Back to Investments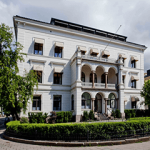 Formue
Leading Nordic wealth manager
Established in 2000 and headquartered in Oslo, Norway, Formue is Norway's leading wealth manager with a presence in Sweden, serving primarily high net worth individuals. Offering a comprehensive range of wealth management services from its offices across Norway, Sweden and the UK, Formue provides advice on wealth planning, investment portfolio management, business management, family office support and legal services. Formue offers its clients a highly digitised service offering with a hybrid model combining advisor engagement and tech-enabled reporting capabilities.
IK Partners acquired its stake, alongside ICG, from several private investors in June 2021. The founder, Ole Jacob Sunde and the management team are also reinvesting.
What Attracted us to the Business
Growing underlying high-net-worth-individuals market
Market-leading provider in Norway
Broad service and product proposition
Tech-enabled business model with further scaling potential
Our Value Creation Strategy
We are working alongside management to:
Capture growth from existing markets through increased financial services penetration;
Enter new geographical markets; and
Further invest in the technology platform to increase advisor productivity.
Responsibility/ESG Highlights
Formue has a strong environmental, social and governance ("ESG") concept with a dedicated approach towards value creation as part of a data-driven ESG roadmap. In addition, it plans to further align itself with international standards in 2021 such as Sustainable Development Goals, Task Force on Climate-Related Financial Disclosures as well as contribution to the Paris Agreement – at a corporate level only.
Quote from the Client
"We are delighted to be partnering with both IK and ICG as we embark on the next stage of our strategic development. In particular, we are privileged to have on board two investors with such solid track records of internationalising high-potential European businesses and furthering companies' digital footprints. With the backing of these partners, we are tremendously excited to see what the years ahead hold."

Øystein Bø, Chief Executive Officer, Formue