Back to Investments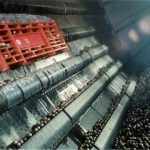 Magotteaux
World leader in process optimisation solutions for high abrasion extracting industries
Magotteaux is a global leading supplier of grinding media, mill internals and wear resistant parts. Headquartered in Liège, Magotteaux employed people in 13 specialised production units and 26 representative offices globally at the time of exit.
Magotteaux's end markets are the mining, cement, aggregate and dredging industries as well the utility sector. Based on in-house R&D, Magotteaux designs produces and distributes proprietary tools and consumables for processes where wear resistance is key.
The IK 2004 Fund acquired Magotteaux in February 2007, and later sold to Sidgo Koppers in October 2011.
Our Value Creation Strategy
During our ownership, we worked alongside the management team to:
Improve financial reporting and controls and increase focus on cash flow;
Re-organise the Company by end-market in order to increase focus and introduce business unit accountability;
Execute lean manufacturing programme designed to improve operating efficiency, shorten supply chain and reduce capital tied up in work-in-progress and inventory;
Continue strong organic growth path through new product development and support growth through investment in production; and
Consolidate market position through corporate finance activity globally.
Quote from the Client
"The cooperation with IK has been positive for the group, and I would like to thank them for their professional guidance, support and investment. In partnership with IK, we have been able to transform the business and are now firmly established as a world-wide leader and are ready for the next stage of our corporate development."
Bernard Goblet, Chief Executive Officer, Magotteaux