Back to Investments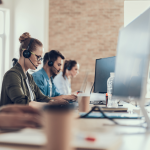 Responda Group
Average Response Time
10s
Leading provider of customer service solutions in Sweden
Responda Group ("the Group") is a Swedish provider of customer service and support outsourcing solutions for small to medium-sized enterprises ("SMEs") in Sweden. Headquartered in Stockholm, Sweden, the Group offers solutions through various omni-channels such as call, email, chat, social media and client systems.
Responda AB was founded in 2008 by Joakim Ögren and Magnus Johannessen and later became Responda Group as a result of the acquisition of Kalix Tele24 in 2021. The Group has over 250 employees who are spread across four offices and serve a diversified customer base of around 3,500 companies within the private and public sectors.
IK Partners acquired Responda Group from its founders in March 2023.
What Attracted Us to the Business
Strong market dynamics
Committed management team
Unique and defendable market position
Several avenues for continued growth
Our Value Creation Strategy
We are working alongside management to:
Utilise the existing customer base of 3,000+ customers for future growth;
Continue gaining new customers in the small and medium segment with an enhanced go-to-market strategy; and
Consolidate the Swedish SME market via M&A and consider expansion in the Nordics.
Quote from the Client
"We strongly feel that a partnership between Responda Group and IK Partners will help us further develop and achieve growth through the pursuit of a successful M&A strategy. Since inception, we have made considerable progress in our field and are proud to have become an industry-leading service provider trusted by highly successful companies in Sweden. We look forward to working with the team at IK and are excited to see where this partnership will take us."
Joakim Ögren, Co-Founder and Chief Executive Officer, Responda Group