Back to Investments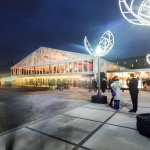 Veldeman
Combined Experience
120 Years
Belgian designer and producer of temporary infrastructures
Headquartered in Bree, Belgium and founded in 1950, Veldeman ("the Company") is a leading designer and producer of temporary structures which are rented out and sold to a multitude of markets globally. The Company is well-known for its innovative capabilities and turn-key solutions offering, providing a broad range of additional services such as electricity, climate-control, ventilation, VIP spaces and decoration. Its ability to offer high levels of customisation, coupled with its broad product and service offering, allows Veldeman to differentiate itself from its main competitors.
The Company's 85 full-time employees are complemented by an extensive network of subcontractors who, together, serve customers across 60 locations out of its sites in Belgium, the US and Chile. Production however is restricted to the Company's headquarters.
IK Partners acquired its stake from the management team in April 2023 who will be reinvesting.
What Attracted Us to the Business
Opportunity to drive consolidation in a fragmented market
Strong and loyal client base
Comprehensive product offering
Innovation-driven culture
Our Value Creation Strategy
We are working alongside management to:
Further optimise operations through digitalisation;
Expand into adjacent niches and provide more value-added services; and
Accelerate internationalisation by pursuing a targeted M&A strategy.
Quote from the Client
"We are thrilled at the thought of a partnership between Veldeman and IK Partners as we feel that its significant experience in the Industrials sector and well-established track record in international expansion through buy and build will help us realise our ambitions. We are confident that, together, we can further develop the Company and its offering to provide best-in-class service for our large and loyal customer base. We look forward to working with the team at IK to continue nurturing a dynamic and exciting environment for our employees and are excited to see where this partnership will take us."
Andy Moors, Chief Executive Officer, Veldeman