Back to Investments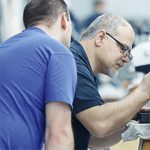 KLINGEL Medical Metal
Leading German contract manufacturer of complex, high-precision machined metal components
KLINGEL Medical Metal ("the Company") is a leading independent contract manufacturer of high-precision, hard-to-machine parts made from titanium and high-grade types of stainless steel.
The Company operates a vertically integrated business model with in-house capabilities spanning the entire production value chain from design to manufacture to final packaging, with a strategic focus on medical technology. KLINGEL's high precision components go into various orthopaedic, cardiovascular and dental implants as well as instruments for endoscopy and robotic surgery. Working in partnership with its OEM customers across the medical technology as well as measurement and control industries, KLINGEL has gained a reputation for uncompromising quality.
The majority investment was acquired from Halder in July 2018.
What Attracted us to the Business
Resilient and growing underlying market
Strong track record with solid core business
Fragmented market with significant buy-and-build potential
Good reputation for quality and technological excellence
Our Value Creation Strategy
We are working alongside management to:
Increase organic growth with existing and new customers;
Develop growth with new MedTech customers;
Drive market consolidation through targeted M&A activity;
Further optimise as well as automate operations; and
Expand into new geographies.
Quote from the Client
"IK has a genuine understanding of the contract manufacturing organisation market and shares our international growth strategy. With their support, we will continue contributing to our customers' success by offering real added value to their end consumers."

Ralf Petrawitz, Chief Executive Officer, KLINGEL Medical Metal