Back to Investments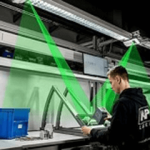 LAP Group
Leading provider of laser positioning systems as well as quality assurance software and hardware used during radiotherapy
LAP ("the Company") was established in 1984 and has become a leading provider of laser measurement and projection systems used in highly attractive and diversified niche end-markets within the Healthcare and Industrial segments. The Company's high quality, easy-to-use and reliable product portfolio is fit-for-purpose and meets customer as well as market-specific quality and regulatory requirements. LAP is a clear market leader for patient positioning systems and quality insurance ("QA") software used within the complete radiotherapy treatment workflow.
Headquartered in Lüneburg, Germany, the Company is based in eight locations across Europe, Asia and North America and employs approximately 300 people.
IK Partners acquired the investment from capiton in July 2019.
What Attracted us to the Business
Leading market position in the growing and resilient patient positioning equipment market
Ability to innovate and develop new products
Upside potential of the quality assurance ("QA") software and hardware offering
Our Value Creation Strategy
We are working alongside management to:
Continue growing the core healthcare patient positioning business;
Roll out the QA software, QA hardware and multileaf collimator businesses supported by new product developments; and
Enter complementary product areas via a targeted buy-and-build strategy.
Quote from the Client
"With our high precision and easy to use measurement and projection systems, LAP has formed long-standing relationships with our global radiotherapy and industrial blue-chip customers. IK is a great partner as they have a genuine understanding of the medical technology as well as our various other end-markets and share our growth strategy."

Thomas Simmerer, Chief Executive Officer, LAP Group