Back to Investments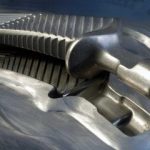 Marle
Leading European CMO of hip and knee orthopaedic implants
Established over 30 years ago as a family business, Marle ("the Company") has become a major company in the orthopaedic industry. The Company provides specialised manufacturing services for the production of a wide range of hip, knee, shoulder, spine and extremities implants as well as orthopaedic instruments of the highest quality.
Covering the full scope of the manufacturing value chain and benefitting from remarkable R&D capabilities, Marle acts as a strategic partner to medical technology companies worldwide and has deliverd over 1 million products annually. At the time of exit, Marle served orthopaedic implant OEMs across Europe, the US, Latin America, Russia, Japan, Korea and China.
The IK VII Fund acquired a majority stake from the Carlyle Group in June 2016. The investment was realised in December 2019 when IK sold to Dentressangle.
Our Value Creation Strategy
During our ownership, we worked alongside the management team to:
Leverage existing client base and further develop a one-stop-shop offering;
Expand activity worldwide and notably in the US either organically or via acquisitions; and
Pursue operational efficiency gains.
Quote from the Client
"I would like to thank IK for their active support over the last three years which has enabled Marle to reinforce its capabilities. We are enthusiastic about Marle's long-term growth potential and are convinced that Dentressangle is the right partner to accompany us in the next phase of our development."
Antonio Gil, President, Marle